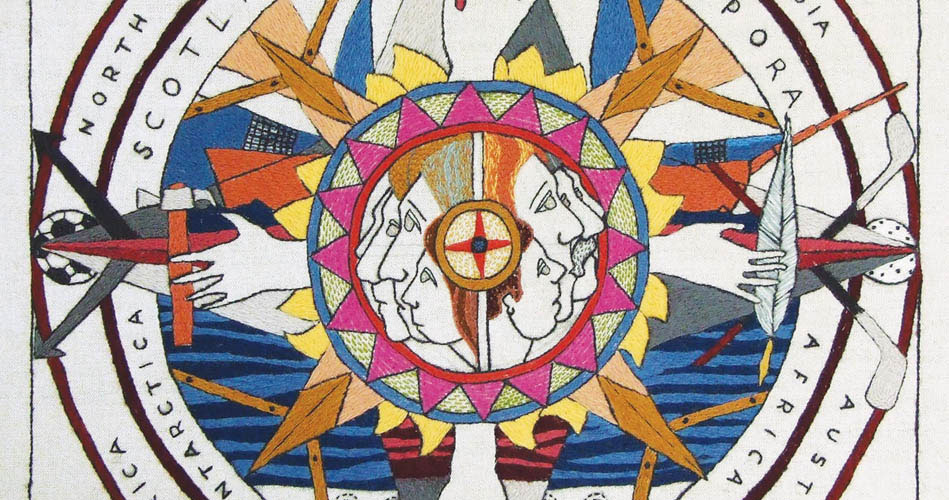 Welcome to the Scottish Diaspora Tapestry!
A celebration of Scottish heritage and culture. It's an extraordinary community artwork by Scots who have migrated all over the world and have frequently had a profound impact on the areas where they settled. This tapestry sees 34 such communities proudly chronicling their Scottish connections as embroidered panels. They pay homage to the determination and courage of Scots over the centuries. The tapestry was conceived by the team behind the magnificent Battle of Prestonpans 1745 Tapestry. It was originally assembled and displayed in Scotland as a significant element of our nation's 2014 Homecoming celebrations.
Welcoming the World
The Scottish Diaspora Tapestry was created under the aegis of the Prestoungrange Arts Festival which began contacting communities with Scottish roots across the globe in 2012 with what soon became an irresistible invitation: Please tell Scotland your story! Thousands internationally volunteered. They were swiftly in action to meet the 2014 deadline busy first researching tales and images then stitching for Scotland. No other visual arts project has ever attempted to boldly bring our Scottish Diaspora together in such a manner.
Creating the Tapestry
With communities far and wide submitting compelling tales, our own artist Andrew Crummy created initial panel designs for verification by those who would be stitching them. Millions of stitches later this tapestry tells 305 enthralling tales from 34 countries, spanning seven centuries. Together they reflect the breadth and depth of Scotland's global legacy.
Back to the Diaspora … then Home to Scotland
This outstanding exhibition was created by more than seventy thousand hours of embroidery across the Scottish diaspora. From 2014/ 2016 a 'promise' had to be honoured. When our stitchers volunteered, we promised to do all we could to take it back across the diaspora so they could share its magnificence most especially with their young people. In 2017 the tapestry came 'home' to Prestonpans from where it is destined to play a vital educational role for young Scots. And it will surely forever attract the admiration of historians and embroiderers everywhere.
Links
www.scottishdiasporatapestry.org